Digipix Cinema Commercials
Watch our demo reel to the right, or click on the thumbnails below to see our commercials in their entirety.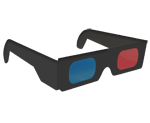 If you have 3D anaglyph glasses, click on the 3D badge to load the anaglyph version.
---
---
---
---
3D
Digipix has been producing stereoscopic content for cinema and television since 2008. We are proud of the fact that we were the first company ever to put locally produced 3D stereoscopic content on cinema screens in Australia, and one of the first companies in the world to produce 3D cinema advertising.
Since then we have produced 3D content both nationally and internationally and we are still recognised as one of the leaders in stereoscopic 3D production. So if you are after a 3D ad to promote your cinema, or a 3D advertisement for one of your clients, give us a call, and we will have something on screen for you in no time!
Digipix is located in Perth, Western Australia, the most isolated city in the world! However our isolation is not a limitation. In fact, it's because of our isolation that we have been motivated to install high speed servers for our clients. With these servers, we can deliver and receive content anywhere in the world using an internet connection. Clients that are out of the reach of a
camera team or production unit can simply upload or email their content to us, bringing inexpensive television and cinema production to remote and regional areas. The finished hi-resolution commercial can then be downloaded or sent directly to television stations for broadcast. We also handle all CAD approvals directly with Free TV Australia.
"We have been using members of the Digipix team for many years now. Their professional polished product has not only impressed our clients, but has enabled us to expand our company to an unprecedented level.
We rely on them very heavily for a prompt and efficient turn-around of jobs, and they have never let us down. We look forward to a long and promising future with them."
Wes Stansfield
Managing Director, CINEads Pty Ltd

---
"Cinevation has been contracting out the production of digital cinema advertising for our clients to Digipix since their inception and, for some time previous to this, employed the services of the now core members of Digipix. Over this time we have found Digipix to operate with the upmost professionalism and we have been
nothing short of extremely impressed with the quality of product they have supplied us. As a result of their work we have received much positive feedback from our clients, and our subsequent reputation has seen us grow rapidly since our establishment."
David Krynauw
Managing Director, Cinevation Pty Ltd

Steve Quartly
Digipix Managing Director
1280 Stevens St
Mundaring Western Australia 6073
P: +61 8 9295 6448
E: admin at digipix dot net dot au